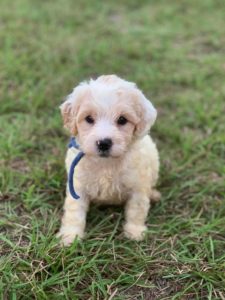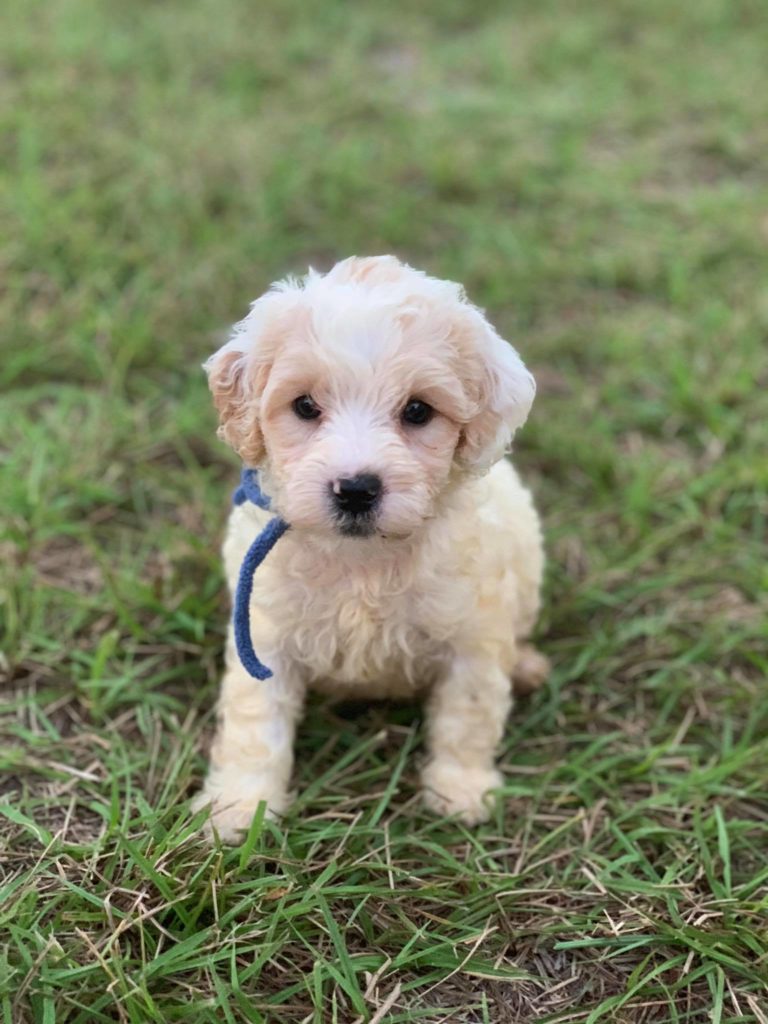 See what our families have to say about us and our puppies!
We are always delighted when we receive compliments and updates about our puppies.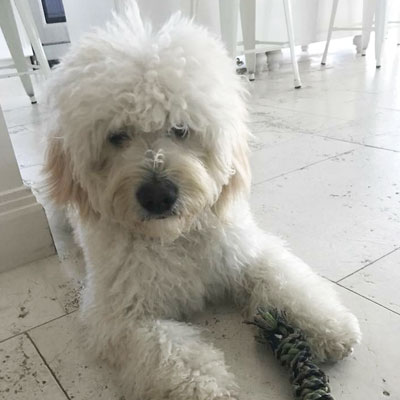 Rex
A year ago today you delivered this bundle of joy to our family. He's amazing and we love him so much. Thank you for driving all the way down on Christmas Eve to bring us Rex. Merry Christmas to you and your family.
- Katie M.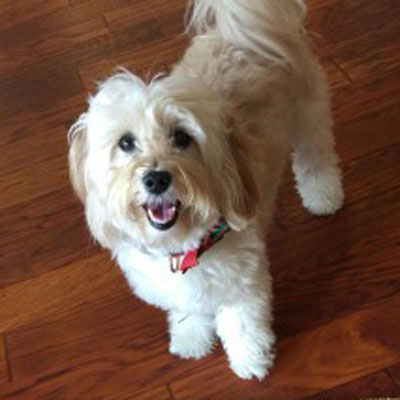 Penny
I am the owner of sweet Penny girl - Sofia and Dale's first litter. My grandmother wants another girl from the same parents of her next litter - she's in love with Penny. Penny is the delight of my life! I love her so and so thankful for you! Thank you so much! Penny is just the best!
- Devan V.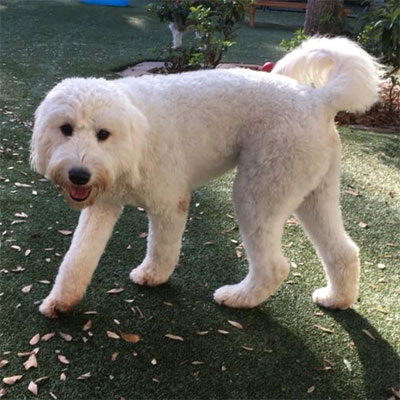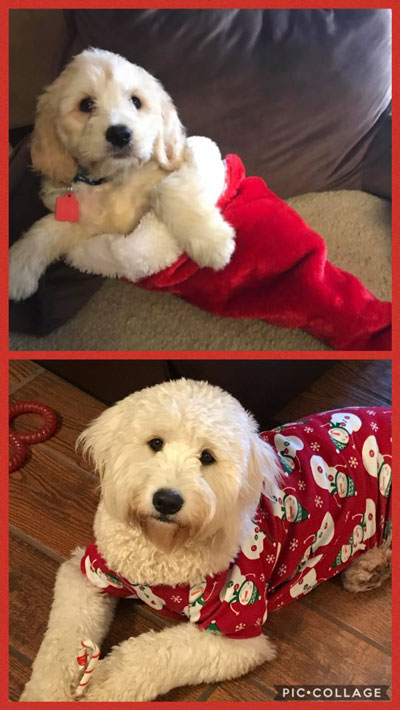 Ellie
Wow! What a year this has been! When I found you online I never knew my life would be so Blessed! I am so grateful to you for bringing Ellie to us on Christmas! I am so in love!! I never had a dog before, my kids always begged me for one. Finally I said, yes. It has been one of the best decisions I have ever made. Ellie is the Joy of our lives in every way. I can never thank you enough for my sweet and precious Ellie!!
- Sandy W.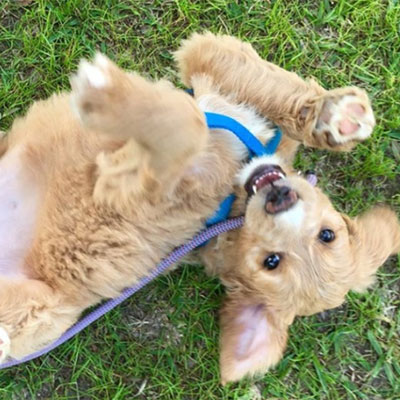 Monster
We made it home safe and sound and our little Monster had a fun, frolicking day in the park today...exploring the grass and flowers, and also making new friends with passersby who "oohed" and "aahed" her. She is already sitting and lying down on command (she is such a smart girl). And she is walking very well on her leash and pottying in the grass so well, too. Dawn, she is perfect! She is loving, gentle, playful, and beautiful (she truly gives the best snuggles!!!). We will, of course, be keeping you updated on all her "firsts"! She is meeting with her trainer tomorrow evening with us for the first time. What a big girl! Julia is also looking into joining a very active agility group in our hometown! She is super excited and loving her baby so much! Thank you for ALL you have done to give her the best head start and rock solid foundation.
- Nicole L.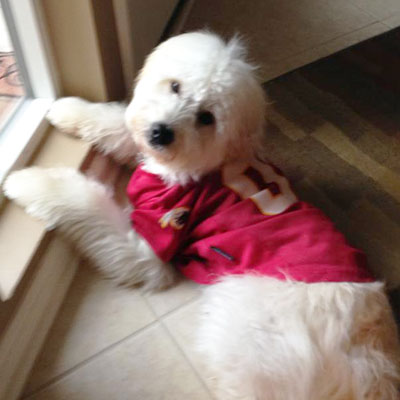 Luca
Just wanted to give you a quick update on our puppy Luca. She is now 7 Months old and about 23 pounds. Loves to take walks, and play with various toys. She wants to be close to us at all times, and loves to sleep right at our feet. She has never had an accident in the house, and we thank you very much for that. We are still having a little trouble with her jumping, but will work on that. She is full of energy and gets very excited when she sees other people and dogs.
- Karen and Ben B.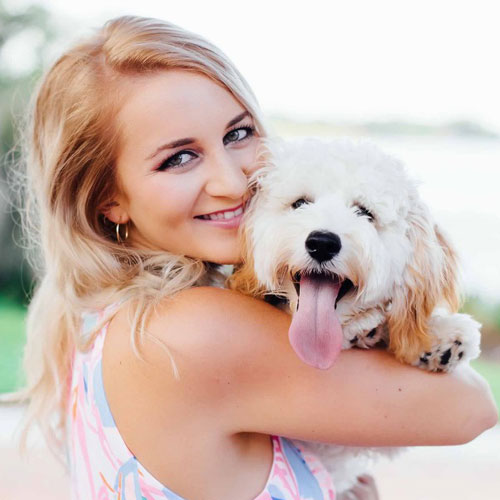 Theodore
Hello Dawn! I just wanted to send you a BIG thank you for my sweet baby, Theodore! He has become nothing short of my absolute best friend. He was relatively easy to potty train and now rings the bell whenever he has to go out. He has so much personality and constantly makes me laugh. My whole family loves him and I'm always getting compliments on him from friends and family. Thank you again! I would recommend Love my Doodles to anyone looking for the perfect companion!
- Sydney M.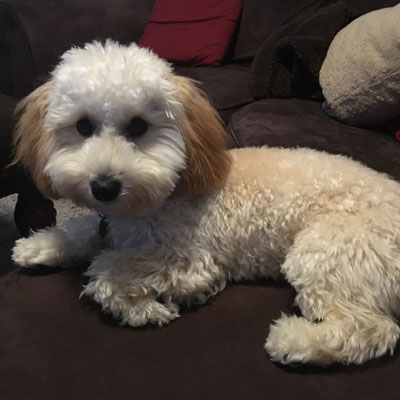 Dobby
Dobby just wanted to say "hi" to you and let you know how amazing he is! He really is an amazing puppy! He has a fabulous temperament and is a perfect addition to our family! He loves to snuggle and he LOVES to play!!! He is currently 9.6 pounds and the vet thinks he will stay on the small side. We hope all of the puppies are doing well at your house!
- Terrell, Brian, Kenan and Dobby R.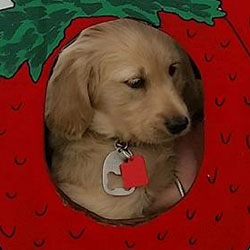 Parker
I wanted to take a second this morning just to give you a huge shout out. I don't know what magic you perform on these puppies but Parker (Teal) is a dream! By the end of her third day at home she has pretty much mastered using the doggy door to go potty on the Astro turf when she needs to without being prompted. In the last three days she's had a total of three accidents and they were really more my fault than hers. She is easy and so so smart. She has never cried at night! Which I thank you for, for helping her get used to the crate. She's happy and playful but also gentle and snuggly. For a first time puppy mom, she is a total dream come true! THANK YOU.
- Kenzie C.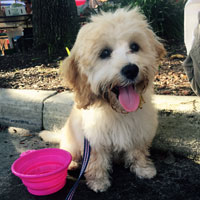 Penny
Penny brings so much joy into my life! I brought her home on July 3, 2015 and we've become the best of friends. Penny LOVES playing with other dogs, going on long walks, going on the boat and to the farmers market on Saturday mornings, I even take her to the grocery store with me! We do just about everything together because she is so well behaved. Thank you, Dawn for being so wonderful to work with, and for taking such great care of her until she was able to come home with me. She makes everyone smile and has the cutest/sassiest personality. Everyone asks where I got her and I am always so proud and excited to pass the Love my Doodles name along to others.
- Devan V.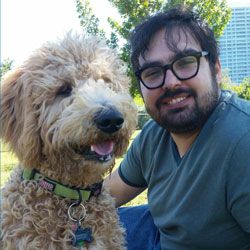 Marshall
Marshall (black from Reba's Litter) is the sweetest puppy we've ever had. He loves to play with other dogs, people and really loves children. Even though we spoiled him to no end, he has been very easy to train and he is graduating from obedience school this friday 🙂 he loves to run in the park with his sister, playing with sticks, and more than anything he loves to cuddle. Because he is so gentle and loving, his future includes becoming a therapy dog to make rounds at children's hospitals. We couldn't be happier to have him in our lives-
- Nina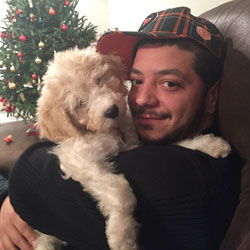 Leroy
My husband and I purchased our puppy LeRoy from Love My Doodles and he arrived December 5, 2014. We could not be more in love with him. He is the sweetest dog. I can not say enough good things about Love My Doodles and working with Dawn. You can really tell how much she cares for each puppy and it really shows in them! As first time dog owners, we had a lot of questions and Dawn answered every single one. She has been a tremendous help and resource to us. We hope to get another one of her puppies in the near future!
- Tara D.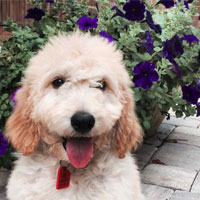 Gaby
Gaby's doing great. Seems like she is really starting to feel like part of the family! Our first night was great! She played with our Lab Kirby, went outside to use the bathroom, plopped down on the floor for a bit to relax, slept on the couch for a bit, and then slept in her crate. We let her out once around 1:30am because she cried, but only a little. She was great all night! Going to vet today at 3:30. She also got to play with Scout. They had a blast, and when Scout got a little rough, Kirby chased him away from his new sister! :-). Thank you Dawn. She's so adorable.
- Kevin R.